CDF Webinar: Minimizing Risk and Exposure From Wage & PAGA Claims in the Time of COVID-19 and Beyond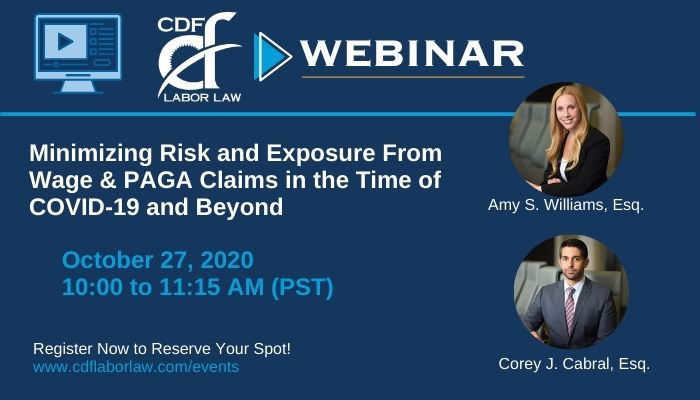 A 60-minute program followed by a 15-minute Q&A session.

October 27, 2020, 10:00 a.m. - 11:15 a.m. (PDT)






Significant changes to the workplace and general employment landscape in 2020 may result in intensified class action and PAGA litigation in 2021.
COVID-19 resulted in an increased number of layoffs, work-from-home arrangements, "hazard" or "hero" bonus payments, and other unique employment developments.
This webinar will assist in-house and outside counsel and HR professionals identify potential risks related to these business practices and develop effective strategies for minimizing potential liability.
Register today to hear from two of CDF's partners that have extensive experience defending wage and hour class actions and PAGA claims.
CA MCLE will also be available.
Presenters:
Amy Williams
Amy S. Williams represents local, regional and national employers in all aspects of California employment law and related litigation. Her practice has a special emphasis on aggressively defending wage and hour class action and Private Attorneys…
Read full bio»
Corey Cabral
Corey J. Cabral represents local, regional and national employers in all aspects of California labor and employment law and related litigation. With a practice emphasis on wage and hour class action and Private Attorneys General Act (PAGA)…
Read full bio»